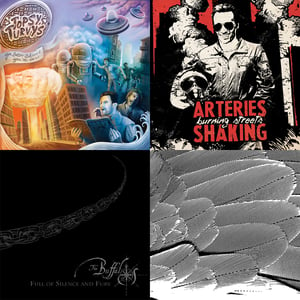 €

10.00
*** Topsy Turvy's - You Better Believe It, You're In ***
2e EP des Poitevins de Topsy Turvy's.
01 – The Incredible
02 – Story of…
03 – Stupid
04 – Guys & Girls
05 – Waiting
06 – The Worlwide
07 – End
08 – You Better Believe it, You're in
------------------------
*** Arteries Shaking - Burning Streets ***
1er album disponible en digipack !
1. Burning Streets
2. Empty Sheet
3. Field Of My Past
4. White Car
5. Mental Jail
6. Utopy
7. Soul Seller
8. Fast Lane
9. Rise
10. Salvation Prayers
--------------------------
*** The Buffalos - Full Of Silence And Fury ***
THE BUFFALOS sont les héritiers du groove rock'n roll sauce Jack Daniels de CLUTCH, des riffs dantesques et opiacés de MASTODON, submergés par une vague oriental et électrique à la SYSTEM OF A DOWN, mis K.O par des riffs uppercut digne de PANTERA. Sous cette surface abrasive se cache aussi le tourment, la puissance et l'épopée empruntés à l'esthétique de la musique symphonique russe de Chostakovich. Une tour de Babel des influences en quelque sorte. Cependant la musique de THE BUFFALOS n'est pas réductible à la somme de ses influences très diverses: elle sait s'en émanciper et part naviguer sur des mers encore peu explorées.
Enregistré et mixé par Sylvain Biguet (KLONE, COMITY, TREPALIUM) masterisé par Alan Douches (MASTODON, EVERY TIME I DIE, THE DILLINGER ESCAPE PLAN), ce premier 12 titres est, la plus aboutie et la plus affranchie d'influences extérieures et aussi la plus sombre des créations du groupe.
--------------------
*** Mohawk - s/t EP ***
Le 1er EP de Mohawk. Folk acoustique et mélancolique de Brest. Avec Plume (Speedball, Footnailsuckers) au chant et à la guitare.
1. The Streets Where The Grins Were Born
2. Rivers And Walls
3. For The Well Being
4. Now All Make Sense To Me
5. Living Swann
6. The Maniac